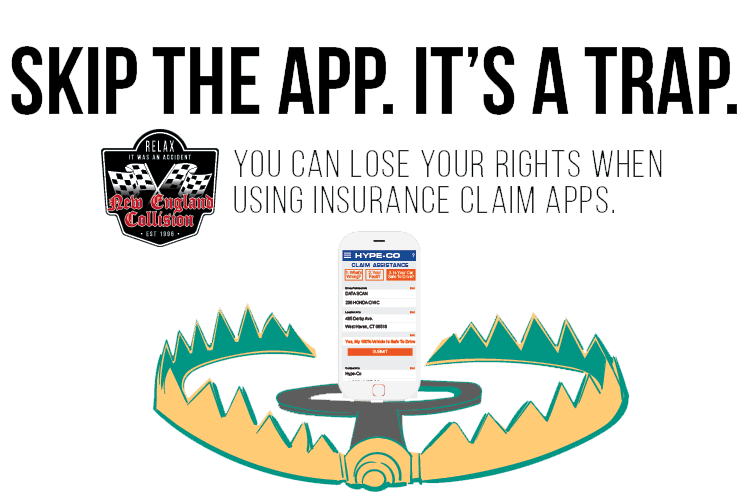 IT'S YOUR RIGHT TO HAVE A LICENSED APPRAISER ASSESS YOUR DAMAGE. IN PERSON.
So, you got in an accident. What's next? Many insurance companies ask you to snap a couple of pics from your phone, upload them in an app – and boom, they'll deposit money into your account. But what if you don't agree with the amount? Worse – what happens when a technician gets in there and finds more damage?
In the state of Connecticut, when you suffer damage to your car, you have the right to have a licensed appraiser assess it. Trained professionals, who know how to spot leaks, determine if sensors are damaged, and identify structural, mechanical, electrical, airbag and other safety concerns. Damage that can't be determined by photos. 
HERE'S ANOTHER RIGHT YOU MAY NOT KNOW ABOUT
In Connecticut, it's your legal right to choose a licensed shop where your vehicle is fixed. You choose, not the insurance company. The insurance company is trying to get the best price for the insurance company. Not you. By choosing an independent shop like New England Collision, you're in control.
If You Choose New England Collision: Skip the App
If you choose New England Collision – but send the insurance company photos – they may write up the damage (without even seeing the car!) Then, if we uncover issues that weren't evident from the photo, we'll need to go back and negotiate on your behalf. This can stall the repair, costing you valuable time without your car. Remember: Skip the app, it's a trap.
5 Questions To Ask Your Body Shop: Know Your Rights!
Is the work guaranteed?

Do they have a good reputation? (Check online!)

What services do they offer? Door-to-door pick-up and delivery? On-site rental cars through national companies such as Hertz? How about 24-hour access to statewide towing?
Do they work with your best interest in mind – not the insurance company?
Do they provide timely repairs and communicate with you the way YOU prefer? (Phone calls or texts?)
465 Derby Ave, West Haven, CT 06516
Monday – Friday 8:00am - 4:30pm